Hallo liebe Community!
Da ich neu bin, erstmal liebe grüße an euch alle.
Ich versuche mich gerade ans Romhacking für das NES/Famicom Spiel Go-Go! Nekketsu Hockey Club.
Das Table-File ist erstellt und den Text habe ich auch schon gefunden und nun scheitere ich an diesen
Verflixten Pointer System, ich werde draus nicht schlau. Diese Methoden habe ich bis jetzt ausprobiert.
1# Text___*Kunio and Shin practice at Nekketu High.
2# Start __*007097* ( HEX-Adresse)
3# Header_*-10* abgezogen = *007087*
die Letzten Vier zahlen erfasst = *7087*
dann geteilt in zwei Teile = *70 87*
und zuletzt getauscht = *87 70* = Standard Pointer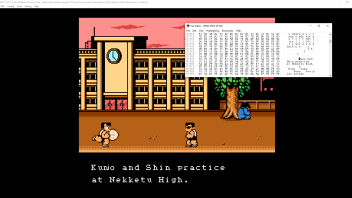 Ich habe auch komplexeres nach *THE MADHACKER'S GUIDE TO NES POINTERS* probiert abzuarbeiten und auch dies verläuft bei mir im Sand.
Vielleicht könnten mir hier fittere Köpfchen irgendwie helfen, dass das wirklich nicht im Sand verläuft?